The AICPA National CPA Financial Literacy Commission Shares Insight on How to Beat the Real Threat of Fake Financial News
If it's on the internet and in ALL CAPS it must be true! Whether it's the GUY WHO TURNED $10,000 INTO $20 MILLION or the HOT TECH STOCK THAT WILL SHOCK YOU, you've probably seen some version of this fake news dozens of times a day. And, if you're like me, you've probably clicked on one of these articles out of curiosity and quickly found yourself lost in a sea of misinformation. Sometimes it seems like you need to be a detective to decipher what financial news is real and what is fabricated. In this post, I'll provide some information to help consumers be better prepared.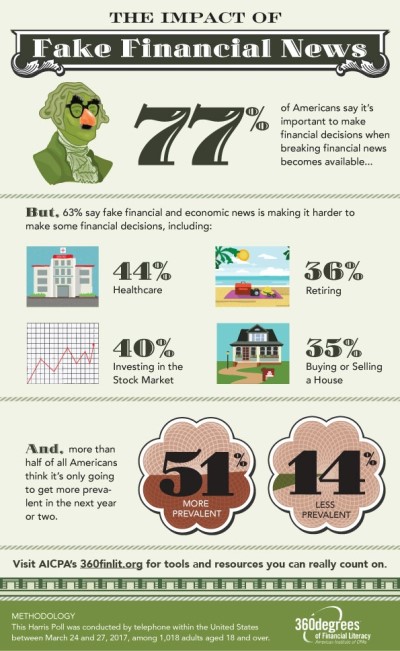 Completely fabricated financial news stories are nothing new, but with the rise of the internet and more people sharing articles on social media, fake financial news feels more commonplace than ever before. And that's a serious problem. In fact, a new survey, conducted by Harris Poll on behalf of the AICPA to raise awareness of the scope of the issue and help consumers protect themselves, found that almost 3-in-5 Americans (58 percent) believe fake news is a serious threat to their financial decision making. Those sentiments are consistent for both genders, among household incomes and across generations – meaning that a lot of people from all walks of life are struggling with this issue.
Like me, many Americans (63 percent) are finding it more difficult to make critical financial decisions because of the spread of fake news. Specifically, Americans are having a harder time with healthcare decisions (44 percent), investing in the stock market (40 percent), retiring (36 percent) and buying or selling a house (35 percent). Americans are right to be wary, as these decisions can have serious, long-term implications and can be difficult to make even with accurate information.
And while fake news has made it more difficult to make financial decisions, more than 3-in-4 Americans feel it's important to act fast to make financial decisions when breaking financial news becomes available. That's a frightening statistic. Because even when reliable financial news becomes available, it's rarely advisable to make financial decisions impulsively. Acting hastily doesn't allow the proper time to think a decision through and weigh the long- and short-term financial implications.
The fake financial news forecast doesn't look good – a majority of Americans (51 percent) expect fake news and misleading headlines to get more prevalent in the next year or two. However, with a diligent approach, consumers can separate real financial news from those fake headlines designed to mislead. The AICPA National CPA Financial Literacy Commission has five tips to keep all of us from getting lured into the fake financial news trap:
Do your due diligence. Quickly reacting to market-moving news, real or fake, can be tempting but most investment plans are designed for the long term. If you have a pressing financial question, ask the Money Doctors – a panel of qualified CPAs that have attained the Personal Financial Specialists (PFS) credential for comprehensive financial planning.
Be suspicious of outrageous claims. Always research the source if you're unfamiliar with the outlet and read some of their other articles. Inadequate evidence or extensive use of unnamed experts may suggest a false news story. Always corroborate the story with other reports.
Watch out for website spoofing. Fake financial news articles published on these websites have the appearance of being from a credible source, but are actually designed to mislead readers.
Closely scrutinize sponsored content and advertorials. These articles are often designed to look like reported content, but are actually outside of a news organization's editorial content.
Look out for pranks. Fake news can sometimes be hard to tell apart from humor or satire and many people can be misled. Check to see if the source is known for parody and the article is a joke – particularly if you see it shared on social media rather than on the source website.
Jonathan Lynch, Manager – Public Relations, Association of International Certified Professional Accountants
Posted by Guest Blogger on Jun 02, 2017 in Financial Literacy, Guest Blogger
– See more at: http://blog.aicpa.org/2017/06/5-tips-to-help-identify-fake-financial-news.html#sthash.TUWecoml.dpuf